About Dr Suraj Gogoi
'We are capable of great things once we realise we can create the experiences we want. Our capacity for greatness is only limited by our imagination and our willingness to commit to what we desire.'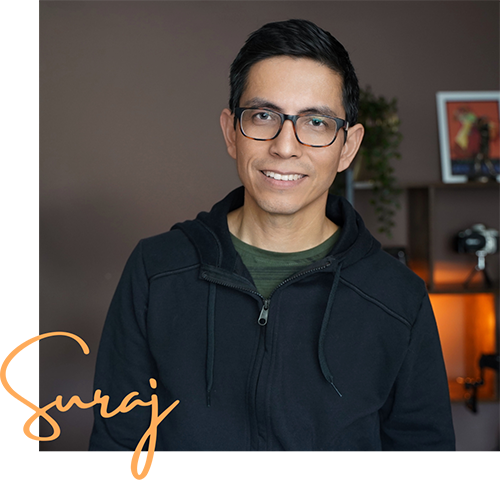 Imagine a world where we are all free to be who we want to be, where we are all treated with kindness and respect, and where we all have the opportunity to fulfil our potential.
It starts with each one of us. We can all make a difference by living our lives with intention and purpose. When we do this, we set an example for others to follow. We can also use our voices to speak up for what we believe in and to stand up for those who cannot speak for themselves.
By working together, we can create a world that is more just, more compassionate, and more equitable for all. Join me in creating this world.
'This is the world I want to live in, and this is the world I want to help create for YOU.'
Seeing the whole person, not just their symptoms.
A good coach can help people who are feeling stuck or lost create positive changes in their lives. If you are searching for an expert coach that takes a holistic approach to mental health, look no further. Suraj has helped people from all walks of life find clarity and confidence in their lives.
He takes a holistic approach to mental health, considering all aspects of the client in order to understand the root cause of their difficulties. He works to create positive changes in his clients' lives.
Suraj provides a safe, confidential space for clients to explore what is going on for them without judgement. He will work with clients to develop a greater understanding of themselves and new ways of coping with whatever life throws at them.
Suraj has a grounded understanding of what keeps us trapped in psychological suffering, stemming from years of working with patients and his own self-inquiry. He has an innate ability to see into the depths of the human psyche and help people liberate themselves.
Helping you achieve the life you want.
The path to a fulfilling life is often filled with uncertainty and confusion. Suraj is here to help you find clarity and confidence in your life choices so that you can create a life that is in alignment with your deepest values and desires.
If this is the world YOU want to live in, then let's work together to make it a reality. Schedule a free consultation call 📞 with Suraj today to learn more about how he can help you create the life of your dreams.
Testimonials
'Suraj is a superstar! Plain and simple. I sought his professional advice and was not disappointed. He is calm, measured and above all else, approachable.'
'I can honestly say that Suraj is one of the most, if not the most, enlightening and inspiring people I have ever had the pleasure of meeting. A placid sea of calm and the most attentive of listeners – he has given me advice on multiple occasions that have dramatically changed both my personal life and my career.'
'Suraj is one of the most approachable practitioners I've worked with. He is knowledgeable and friendly without being intimidating.'
'Calm, kind. Good at being with people in distress. Methodical and clear-headed in thinking through complex clinical situations, and then does have the nerve to act on his hypothesis (usually with success).'
'Suraj is a very capable clinician and highly respected by the team. His strengths are his ability to involve all…'
'Scores very high on equanimity, emotional intelligence. Always present…'
'Clarity of thought in formulations. Respectful of all.'